Computer Upgrade
Jan. 31, 2010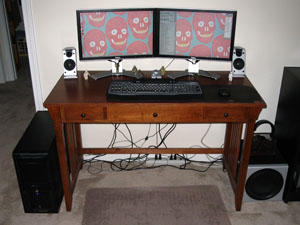 I am constantly updating my computer, as it is something I enjoy doing. It's current specs are:
Intel Core i5-750 2.66GHz Quad-Core Processor
Gigabyte GA-P55A-UD4P Intel P55 ATX Motherboard
Sapphire Radeon HD 5770 1Gb PCI-E Video Card
Corsair XMS3 4.0Gb DDR3 1600 Memory
Sony Optiarc DVD-R/RW SATA Optical Drive
Sony 3.5" Floppy Drive
Western Digital Caviar Black 750Gb SATA Hard Drive
Seagate Barracuda 320Gb SATA Hard Drive
Corsair 650W Modular Power Supply
Lian-Li PC-V1200B Plus II Case
Logitech G9 Laser Gaming Mouse
Logitech G15 Gaming Keyboard
Logitech 2.1 200W Speaker System
Dell 2007WFP 20" x2 S-IPS Widescreen LCD Monitors
Loving my Audi A3
Jan. 31, 2009
After looking for the perfect A3 for over a year, I finally found the perfect one in October. It was located in Greenville, SC, which is about a 5 hour drive from Raleigh, but I knew it was the one I wanted. I had seen it listed on Cars.com, which I had been checking daily for new A3s, and drove down and bought it three days later. Iíve owned it for a little over three months now and absolutely love it. After parking it at work I still find myself looking back as I walk away to get a last glimpse at it. Iím glad that I waited to get exactly the car I wanted, instead of settling sooner for something else. Here are are some details about it:
2007 Audi A3 2.0T
Lava Grey / Grey Leather
DSG Transmission
S-Line Package
Technology Package
Symphony Stereo with iPod adapter
Purchased with 15,000 miles
Lil' Baby Laptop
Oct. 9, 2008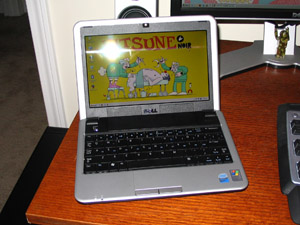 I have wanted a netbook for a while and finally got the one I wanted, a Dell Mini 9. It is crazy small, only 9" wide and 6.5" deep. So far I really like it. Some features are:
Intel Atom 1.6Ghz Processor
Corsair 2.0Gb ValueSelect RAM
16Gb Solid-State Harddrive
8.9" 1024x600 LCD Display
Built-in Bluetooth
0.3MP Web Camera
Multi-Tool Collecting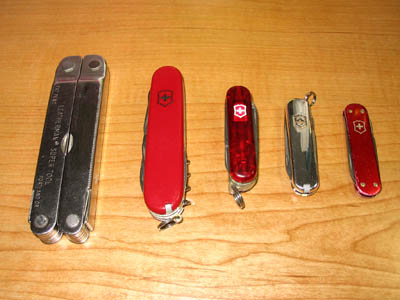 I have always kind of liked multi-tools, mainly Swiss Army Knives, but others as well. When I started college, I started carrying a tiny little Swiss Army Knife around daily (far right). I found many uses for its little blade, scissors, and file, that I decided to get another Swiss Army knife with those same tools, but that also included a flash USB memory stick, pen, and light (middle). I've carried that tool with me everywhere for the last two years, including airplanes (whoops), and loved it. I was interested in replacing it and found that Victorinox and Tiffany & Co. made a collaborative knife which I thought was really cool, and couldn't help but get it (second from right). It was fairly expensive but I sold
a copy of Final Fantasy VII
I've had to offset the cost. I don't regret it.
PTK Counter-Strike Video



Back in mid-2006 I was really into Counter-Strike and CS surfing, basically where you slide around on ramps in CS. I saved some footage to make a video and only got about a third of the the way done before I ran out of recoded footage and lost interest. Looking back though, I think the video came out pretty good, so I just uploaded it to YouTube so everyone can see it. Check it out. (Contains some graphic language. Sorry, blame hip-hop.)
Saving Money for an Audi A3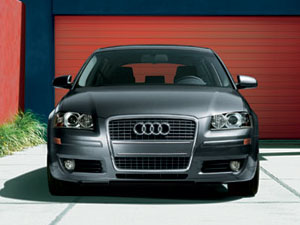 As of lately I have become pretty obsessed with getting a new car, namely an Audi A3. I wanted a VW GTI for the longest time, but realize now that I don't think I would be as happy with the new GTI model as I would an A3. There is pretty much no way I can afford a new car any time soon, so I am going to just keep saving my money til one day I can get the car of my dreams. Until then I will just be content with my 1:18 scale model of an A3, but that can only hold me for so long.
Artwork Framing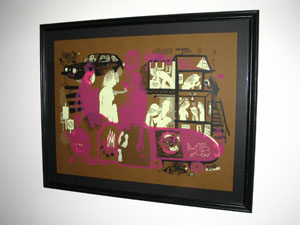 I recently bought a print by
"The Little Friends of Printmaking"
which I thought was great, but I needed to have it framed or frame it myself to really appreciate it. The local crafts store was trying to charge around $100 since it was an odd size (19x25") to custom frame, so I just decided to buy the next size up frame (22x28") that fit it along with some black matting and do it myself. I am very pleased with how it turned out and it didn't cost nearly as much as having it done for me.
CustoMat Mousepad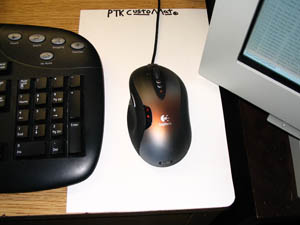 Last year I wanted a mousepad for my desk but was to cheap to buy one, I know that's cheap, so I decided to make my own. I used a piece of posterboard and taped it to my desk, making sure it was flat, and gave it a special insignia, the CustoMat. This worked great for a few months, but eventually the cardboard got dirty and worn, and it didn't work well anymore. It was good while it lasted though.
PTK Gingerbread Man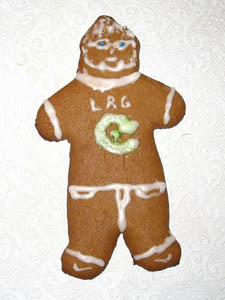 For Christmas Monica and I were making gingerbread men, and this was mine. I tried to make it look like me and I think it came out pretty good. This was a good project.
Xbox Controller to PC Mod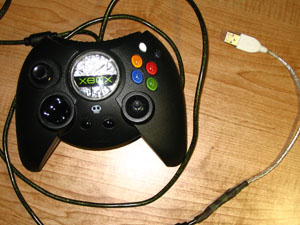 I had been holding on to this Xbox controller since I sold my Xbox in 2004, knowing that one day I would get around to soldering a regular usb plug on it and using it a gamepad. This is pretty easy to do, all you need is the drivers at
http://www.redcl0ud.com/xbcd.html
. The jewel lights up with blue LEDs, which was actually accomplished back in 2003.
Custom PTK License Plate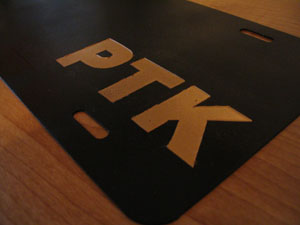 I had always wanted a decorative license plate for my car that said "PTK," but there was no way I was getting some cheesy airbrushed plate in the mall... so I made my own! I painted some random plate black, masked off all but the PTK, then painted it gold. Looks pretty good, check the front of my car the next time you get a chance.
Fix Digitz Sony MDR-V700DJ Headphones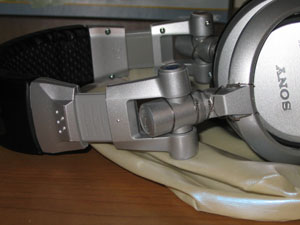 This was the second pair of these headphones that my DJ friend, Ill Digitz, had that broke in the same place. I used wire and Krazy Glue to wrap the plastic that is normally under stress during use, and then glue it in place. Now I think that these headphones are as strong or maybe even stronger than they were new.
Tasty Muffin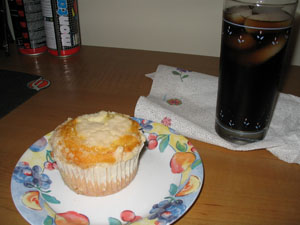 This isn't a project but I forgot I had this picture, look at the muffin from last summer. Harris Teeter Cheesecake muffin with Cherry Coke on the side. Wow.
"Obey PTK" Poster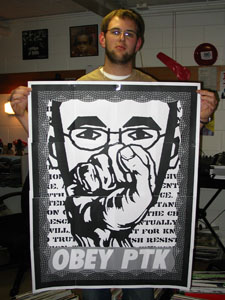 I had made this design in freshman year, and I always wanted to go big with it but I never had the means to print on a large scale, until I figured out that I could just print on a lot of letter sized pieces of paper and tape them together, and thus, this poster was created. Nice.
PTK Laptop Decal Set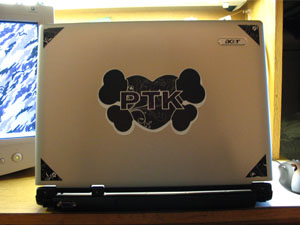 When I got my laptop, I wanted to customize it in some way, but I didn't want to go to the trouble of painting it, and just putting a bunch of random stickers didn't suit me either. I ended up creating a set of decals just for my laptop from one of my previous designs, professionally printing them on sticker papers, and then use an Exacto Knife to cut them out. The final product came out much better then I ever thought it would.
LCD Case Mod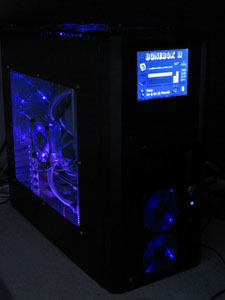 I had a Playstation One screen that was meant to be used on top of a Playstation, but I found that I really never used it for this. I started to think that it would be great if I could use the screen for something else, and I found out quickly that others had modded the interface to accept a regular VGA connection. About two weeks later, after much soldering and cutting, I was left with this case. It has the screen on the front which can display any sort of information about the machine.